Donate One-Time,
Become a Monthly Subscriber,
or Claim Your State Tax Credit
You can donate up to $421.00 if you file single and up to $841.00 if you file joint. The state of Arizona will give you this money back as a credit on your AZ State Tax Returns!!
The Arizona Charitable Tax Credit allows taxpayers to make a charitable contribution to an eligible nonprofit and receive a dollar-for- dollar tax credit against their AZ state taxes. You can take advantage of this credit to help those most in need in our community, and it won't even cost you a penny.
Use QCO Code: 22597 on your Form 321 to receive your state tax credit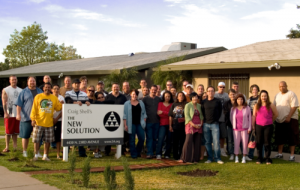 In addition to providing a safe living space for clients, we also provide food, clothing, toiletries and anything else that our clients need to live, recover, and become successful.
We accept any and all donations at any of our 5A house locations or you can bring donations directly to our main office.
Although we accept all donations, socks, toiletries, and towels are probably what are consistently needing to be replenished.
5A is a 501c(3) organization 💪💙
Your support directly impacts the 5A mission and programs. We couldn't do what we do without you. 
Your support allows us to cover costs for clients seeking recovery and offer our services to those that may otherwise not be able to afford it. 
We thank you for your support and for your dedication to helping those seeking recovery from substance abuse.
Would you like to make an in-person contribution?
Feel free to stop by any of our house locations to make an in-person donation. We provide tax-deductible receipts for all donations to use when tax time comes around. 
5A exists to help addicted drug addicts and alcoholics recover and find a better way of life. 
Ask us about volunteer opportunities! We'd love to connect with you! 
Join our facebook group!